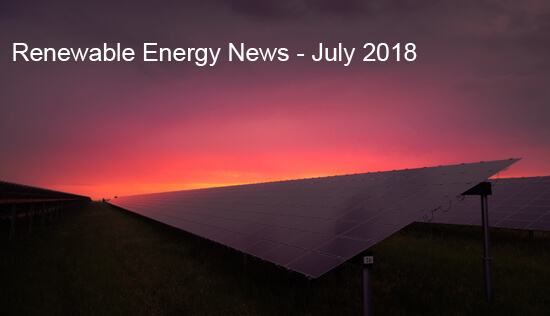 Renewable Energy News – July 2018
It's been a busy month in the world of renewable energy; with the summer so far being the fifth sunniest ever recorded in the UK, it's no surprise that solar PV system output is breaking records left, right and centre. The UK government has made big statements this month on the future of EVs and charging infrastructure, and the upcoming changes to the feed in tariff for those considering solar PV installations.  We have complied some of the ways in which renewable energy has been making the news in July 2018.
FiT changes on the way
The government announced on July 19th 2018 that the current feed in tariff (FiT), due to end in March 2019, is not likely to be replaced by a new subsidy, although the consultation period is not yet complete. Since 2010, any home or business that has installed a solar PV system has been paid a government subsidy for any electricity they produce as well as a payment for electricity exported back to the National Grid. This agreement continues for 20 years (25 years for some systems) after the installation. The proposal is that at end of this subsidy, any new installations after March 2019 will not receive any FiT payments or for electricity they export to the grid, although this is still up for debate.  Existing installations will continue to receive theirs for the remaining term of their agreement. The cost of solar, for both commercial and residential use, has fallen in recent years, making the FiT less of an issue for many homes and businesses.
At Joju, our take on this news is that the main benefit for solar PV has always been that it's the cheapest way to provide energy to a building, something that is especially important for commercial premises and any subsidy changes will not affect this. For those considering potential solar projects currently, a small financial benefit could be gained if it is fully installed and commissioned by 31st March 2019.
The 'Road to Zero' government strategy
In July, the Department for Transport published its 'Road to Zero Strategy', outlining the ambition for at least 50% of new car sales, and 40% of vans, to be ultra-low emission by 2030. The strategy includes plans to invest in not just an increase in public charge points, but also in developing new innovations in charging, including wireless and on-street technology, to help serve the millions of UK households with no access to off-road parking at home or work.
The strategy includes plans to encourage residential property developers to build new homes that are "EV-ready" with a home charge point already installed, along with new street lighting installations having charge points built into them.
All in all, around £440 million has been promised for investing in the UK's charging infrastructure, which is likely to include residential, workplace and public chargers.
Workplace charger installation grant increased
The UK government's Office for Low Emissions Vehicles (OLEV) has been providing vouchers to homes and workplaces that wanted to install a charge point since 2016. For residential charge point installations, the maximum value of the grant is £500, and until the recent changes, workplaces could benefit from £300 grant per socket. Since 24th July 2018, new applications for workplace charge point installations can now receive a voucher for £500, bringing it in line with the residential grant.
As an experienced and fully accredited EV charge point installer, working with a wide range of available charge point manufacturers, Joju can manage the grant application process, along with the installation itself, on behalf of homeowners and workplaces.
The first public charge point using solar generated energy and battery storage technology to charge EVs is unveiled in Scotland
An innovative EV charging hub has been installed in Dundee city centre to serve local taxi fleets using EVs and the wider general public when driving electric cars. The hub includes 18 bays, with solar canopies, and there are a range of charging options available, including 50kW and 22kW chargers to support faster charge times. The system utilises second-life EV batteries to store electricity when it's being generated but not used, for use later in the day.
This type of three-pronged approach may be just emerging in the public charger sector, but using a combination of solar PV and battery storage to charge EVs in the most low-carbon (and cheapest) way possible is something that Joju have been facilitating for our residential customers increasingly over recent years, as shown by this renewable energy home case study. We can only see this approach growing over the next few years as people become more aware of the benefits of charging their EV with sunshine at home.
Record breaking low carbon intensity in the UK
July 28th 2018 saw the lowest ever carbon intensity in the UK, at just 74 gC02/kWh, according to GridCarbon. The app calculates the carbon intensity of the UK's electricity grid, using data about the mixture of different fuel types (updated every few minutes) that contribute to the grid. The lower the carbon intensity, the higher the percentage of renewable energy being utilised by the grid.
Using 30 minute data from BMReports puts yesterday's lowest ever carbon intensity at 74 gCO2/kWh. We'll probably have to wait until 2019 to beat that now. pic.twitter.com/XzcD8EUe7G

— GridCarbon (@GridCarbon) 29 July 2018