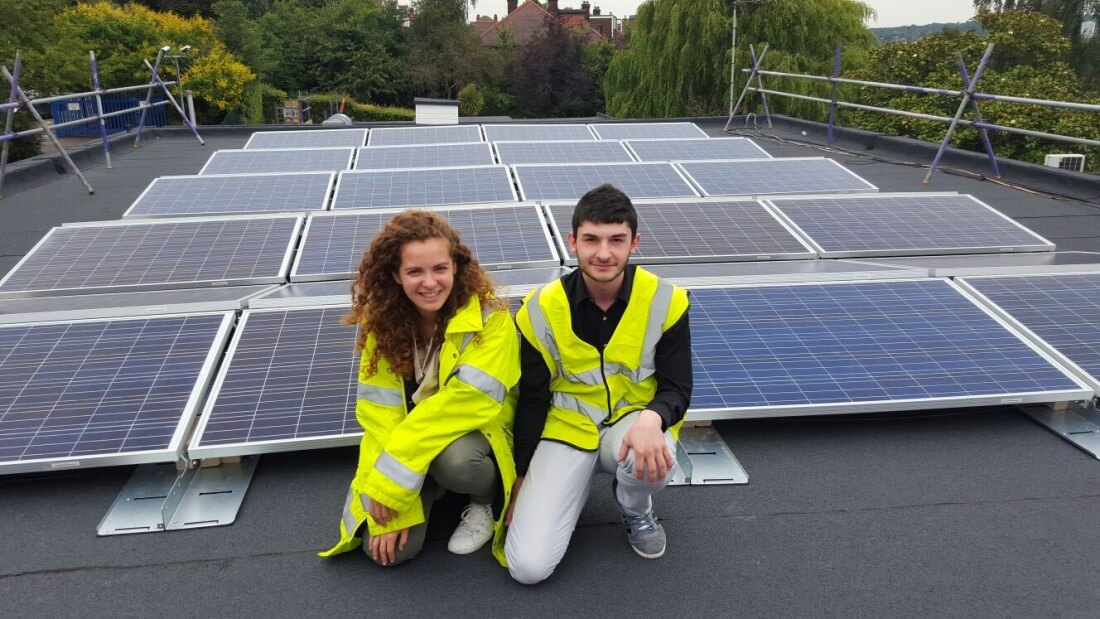 Internships at Joju – what's it like?
Joju's internship scheme welcomes interns from all Europe to work at Joju. Currently we have Alina (from France) and Michele (from Italy) working and bringing their knowledge and insight to the Joju team. Ryan Lewis, Joju's Communications Manager talked them about the scheme and life in London.
Joju's offices are always a hive of activity as people come and go from site to site, installation to installation, and event to event. Getting the message out about Solar PV, Battery storage, LED and EV charging is a busy business. But every year during the summer months when our work load dramatically increases (especially installing in schools and public sector buildings) we welcome interns to the team on our internship scheme. This summer we have Alina, from France, and Michele, from Italy, in the office. I decided to break them away from their work (we give them a lot) to find out more about them and what they thought of the internship.
How did you find out about the Joju Internship?
Michele – I found out about Joju's intern scheme thanks to a partnership between my university –Istituto Tecnico Geometri R. Di Palo (I.T.G R. Di Palo) in Salerno, Italy, Essenia UETP (the European University-Enterprise Association) and Sagitter Training, which specialises in work experience placements in London.
Alina –  I found out in a slightly different way. I actually found out about the scheme from Myriam, a previous intern at Joju. She told me about her experience and how much she enjoyed it and that convinced me to apply.
Where and what are you both studying?
Alina – I'm studying at the Environmental Management at the Institute Superior of Environment in Paris. My studies are separated in to two fields: the Science of Environment (water, waste, renewables energies, chemistry, radioactivity and so on) and the rights and legal aspects of the environment.
Michele- And I'm studying at the University of Salerno, Italy in the faculty of Informatic Engineering.
What are your ambitions after University?
Michele – Once I have finished my three years of Informatic Engineering in Salerno I would like to specialise in Robotics Engineering at University of Genova. I think that Informatics and Robotics can do a lot in all fields but especially for our lives (e.g. surgery, travel, and home lives) and especially for the environment by improving our knowledge of the air, soil, and water. I would like to use robotics to make a really positive change for society.
Alina – At the moment I'm not really sure what I'd like to do after my studies. I'm still uncertain but the field of renewable energy has always interested me and my time at Joju has convinced me it is more important than ever.
What do you like about living and working in London?
Alina –I like London because it's such a cosmopolitan city. There is always something to do. In particular, I love the parks which are so much bigger than those in Paris. And the people of course who are really nice and friendly. I have plans to visit as many places as I can while I am here. I really want attend one of London's theatres to see Shakespeare of course. I would also like to visit Oxford and Brighton. As much as possible really.
Michele – I also love the presence of so many parks. They are great places to relax and escape the city, as a teenager all I wanted to do was relax in parks. I want to spend as much of the summer as possible with friends and experiencing London. We love visiting all the historical landmarks and monuments but I also want to try something typically English too – whatever that might be!!
Alina and Michele will return to France and Italy respectively after the summer. If you are interested in an Internship at Joju then please don't hesitate to get in touch.