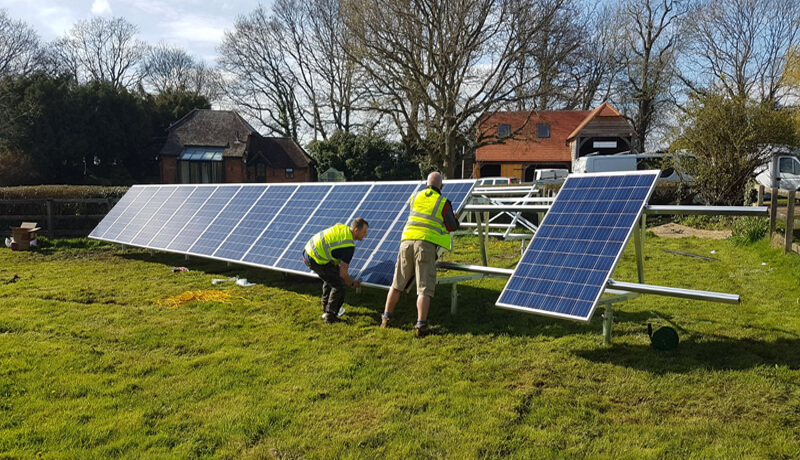 Joju Solar's April Project Showcase
Well it's been quite an April here at Joju Solar!  We've delivered a whole host of projects this month and lots of them have featured some really innovative design.  We give our customers bespoke designs for all projects, and the results can be spectacular.  With our project managers filling up our WhatsApp group with pictures of their latest work, we thought we'd share some of the best with you.
Leaf Studio Academy School
This is one of our community funded solar school projects installed for The Ambitions Trust in Bournemouth.  The roof covering at the school was a Tactray system, which is a decorative brick tile covering over the top of a metal roof.  We stripped away a section of the tiles and installed a recessed solar panel array in the space, fixing to the metal roof underneath.  The end result is a sleek integrated solar array where the panels sit in line with tiles.
Richard's ground mount project
If your roof isn't well suited for solar PV and you have space available, a ground mounted array, wired into the home is a great option.  This will need planning permission, which we can help you with, and the array needs to be sensitively integrated into the environment (such as visibility from roads and footpaths etc.).  Richard's property was a listed building, so he chose a 5.4kW solar array in a field next to their property, installed by our specialist ground mount installation team.
Seth gets 2 Tesla Powerwalls
We always design our battery systems to match with overall demand on site and with the amount of generation available.  The electricity demand at Seth's property was comparatively high, and is powered by a 8.7KW solar PV array.  In this instance, it made sense to increase the storage capacity by installing 2 Tesla Powerwalls, bringing the storage capacity up to 27kWh, and available power discharge to 10kW.  The Tesla Powerall is modular and multiple units can simply be linked together.
Integrated green roof
Green roof systems have been getting a lot of attention in the green building community over the last decade – they are good insulation, promote biodiversity, slow water run-off in urban environments and prevent flash flooding of rivers, and they look great too.  However, it's often seen as a decision between a green roof or solar PV.  Not true!  It's perfectly possible to integrate both green roofs and solar PV in one location, as this new build property demonstrates.
Sika SolarMount
The Sika SolarMount (SSM1) is a unique solar mounting system, for use on Sika Sarnafil membrane roofs.  Most flat roof mounting systems use ballasted frames to secure the PV to the roof.  The Sika Solarmount, however, uses PVC welded 'clicks' to secure the frame in place.  It's quick and easy to install, requires much less ballast, and the solar and roof covering are all covered by one single point guarantee.  It's a great option for new flat roof systems, and Joju Solar are official design and installation partners with Sika Sarnafil for this product.
Further Reading
How we work with you to develop your own bespoke solar or storage project
Our service for designing and installing new build projects