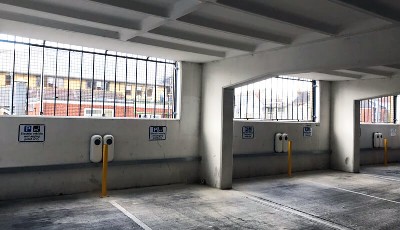 Councils install EV chargepoints with Joju
As the electric vehicle market begins to take off, more chargepoints are needed in public locations so that drivers can charge when away from the home. Local councils are therefore providing EV chargepoints in public locations such as car parks, on-street parking bays and Park and Ride schemes.

There is also a move to help provide EV chargepoints in residential areas with no off-street parking. This has the effect of improving local infrastructure to support EVs, and reduces range anxiety of EV owners who know they will always have a chargepoint nearby.
Although there has been some criticism of councils for not moving fast enough, we're seeing a lot of activity in this area. Councils are installing trial schemes and expanding them as the electric vehicle market continues to grow. The number of electric vehicles bought in the UK in 2017 was up 30%, so we are seeing a rapid expansion in this area.
Joju – EV chargepoint installers
Joju have recently won 3 major contracts for the provision of public EV chargepoints to councils. Ipswich Council, Southampton Council and Hampshire County Council have all chosen Joju as their EV chargepoint partner in recent months.
ESPO Framework for Vehicle Charging Infrastructure
The ESPO Framework for Vehicle Charging Infrastructure provides a simpler route for councils to procure EV chargepoints. Because the Framework is in compliance with UK/EU procurement legislation, individual councils do not need to run their own lengthy and complex tender processes. Instead, councils can contact approved suppliers directly from the framework and commence the works more rapidly.
Of the contracts awarded thus far via the ESPO Framework, Joju have won all of them. Ipswich Council and Southampton Council have both used the ESPO Framework for procuring their EV charging points for public locations (such as the Southampton multi-storey carparks as shown above). We are technology agnostic, and so can offer a range of different chargepoint options according to the council's needs, delivered with our standard high levels of technical quality and smooth delivery.
 EV Chargepoints in Hampshire
The scheme in Hampshire operates via a different model. The scheme covers all local councils in Hampshire, who can commission us to install their EV chargepoint schemes, and this can operate under a funded or non-funded model.
We have developed a fully funded chargepoint solution, alongside our finance partners. Here, there is no up-front cost to the council, and EV chargepoints will be installed by us for free. The chargepoints will be paid for via a small fee each time the charger is used, via a smart charging key.
The Future for Councils
We expect to see many more council installations over the coming years as the electric vehicle revolution takes hold. We're excited to be a key delivery partner in making this transformation happen.
Further reading