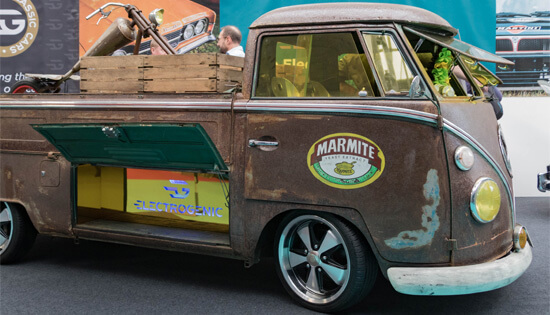 Converting Classic Cars to 100% Electric
Internal combustion engines, for all their flaws, are design classics.  Why let them go to waste? In this guest blog, Steve Drummond from Electrogenic explains why you should consider converting classic cars to electric.
Electrogenic converts classic cars to 100% battery electric vehicles.  This takes a lot of tech, but also an appreciation of beauty and excitement to create something new.   We convert customers' cars, or we help source a vehicle and then convert it.  What marks us out is that we install all-new tech, which runs under our own operating system, and that we care about enhancing our customers' driving pleasure.
Why convert a classic car to all-electric?  It is, of course, a question we are continually talking to our customers about.  Here are our five key reasons:
It's great for the environment
This is clearly the case if switching from an internal combustion engine (ICE), but an R-EV is also a great option compared with a new electric car.  It's famously difficult to determine the emissions entrained in the manufacture of a new car, but an ICE takes at least as much carbon to produce as it emits from its exhaust over its lifetime.  Making an EV involves even more emissions.  With an R-EV, however, you are starting with a "recycled" car, and if you use second-hand batteries too, your manufacturing emissions are practically zero.
It's romantic and practical
New EVs are efficient and have lots of bells and whistles, but they are mostly ugly, or at best, boring.  But classic cars are often noisy, smelly and unreliable (classic car owners know all about "range anxiety").  It's often scary to drive in modern traffic because you are too slow and unless you do your own mechanics, they are expensive to keep on the road.  When you convert a classic car to electric, you know it will start, and you know it will get you home again too.  Everything that is wrong with a classic car is right with a R-EV. And everything that is right is right too.
It gives the old car a new lease of life
Turning an old family friend into a R-EV makes it future-proof.  ICE vehicles are getting banned from city centres across the UK.  And it's getting hard to get a decent Jag engine to build back up again.  As more EVs hit the streets, you will have to drive further to find petrol – remember your classic car is 50 years old and going strong; roll forward 50 years and there will have been no new petrol cars sold for the last 20.  If the engine in your classic needs surgery, will you really invest in more of the same?
It's economic
Yes, it is expensive to do a conversion to R-EV well, but if you intend to keep your newly electric-powered classic, it is good economics too.  It beats a new EV hands-down because it won't depreciate.  And it turns an ornament into a daily driver – so your classic suddenly replaces your second family car.
It's fun!
Trouble-free classic motoring, picnics in the sun…and in the words of one of our customers "I'm bored of my Tesla.  The only good part of it is taking people at the lights.  Now if I convert an old VW that no-one will suspect…"
So think of a car you would like to convert, have a look at our website (www.electrogenic.co.uk) and then if you have any questions, give us a call.  We are on most social media too, so check us out.  We look forward to talking to you!
Electrogenic founder, Steve Drummond, has worked with Joju for years through his work with the Low Carbon Hub, where Joju has for years been a preferred supplier because of their professionalism, knowledge and community focus.  So when Steve started Electrogenic, who better to partner with to help our customers integrate their homes with their new Electrogenic Retro-Electric Vehicle (R-EV) than Joju?
Find Out More